Broome celebrates small business at awards
Written on the 5 May 2018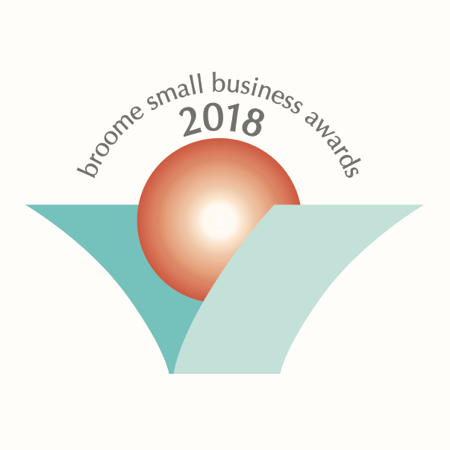 Broome's small business community gathered last night to celebrate their achievements in a glittering award ceremony at the Mangrove Hotel.
Hosted by GWN7 news anchor Noel Brunning, the event was attended by 140 local business members.
HOME BASED BUSINESS
HIGHLY COMMENDED: Hats By Felicity
Growing on her passion for millinery, Felicity Brown began creating 25 years ago while working on remote outback cattle and sheep stations. Originally self taught in the art, she completed several short courses after moving to Broome, eventually leading to her business 'Hats by Felicity' which celebrates the Kimberley through her head-wear designs. Felicity has since showcased on the runway of New York Fashion Week three years running. Judges were impressed by her dedication, excellent marketing strategies and customer service, as well as her efforts to promote Broome through her business.
WINNER: Range Business Services
Established in 2013, Range Business Services offers flexible, convenient bookkeeping solutions and fixed price 'rescue' work. Judges were impressed with the momentum that Range had gained in this short period of time, attention to detail and workflow processes. Range Business Services uses a strong mix of business planning while embracing a good mix of traditional and technological systems. Their fixed pricing cost system showed that they are able to deliver on promises to meet customer needs.
HERTZ BROOME AWARD FOR FRANCHISE BUSINESS
WINNER: Harvey Norman Broome
Harvey Norman Broome opened in December 2016, offering the largest whitegoods and small appliance range in the Kimberley. Owner Laura De Vere-Hunt lives by the philosophy, opportunity can't knock if you don't build a door' which is evident through her initiatives to offer Broome locals a retail experience that would match that of any metropolitan outlet. Judges were impressed by Laura's commitment to maintaining high values and quality customer service.
NYAMBA BURU YAWURU AWARD FOR ABORIGINAL BUSINESS
HIGHLY COMMENDED: Kimberley Wild Gubinge
Established in 2015, Kimberley Wild Gubinge is a majority owned Aboriginal business located on the Dampier Peninsula. They wild harvest, produce and retail dried fruit products made from the Gubinge. Since starting, the business has developed its products and operations to produce a world class dried fruit powder and wafer that is used as a natural Vitamin C addition to cool drinks and food. Judges were impressed by Kimberley Wild Gubinge's great innovation and excellent achievements in a diverse business.
WINNER: Narlijia Cultural Tours
Narlijia Cultural Tours is 100% owned and operated by local Yawuru man Bart Pigram. 'Narlijia means 'authentically for you' in the Yawuru language and was created due to the demand of local indigenous tourism products in Broome. Since establishing in 2015, Narlijia has progressed from two low-cost walking tours to several more products including the Beach to Bay Tour and Cultural Cruise with Broome Whale Watching. Judges were impressed by Bart's great ambitions, excellent strategies to keep loyal customers and strong future planning.
KIMBERLEY SMALL BUSINESS SUPPORT AWARD FOR START-UP BUSINESS
HIGHLY COMMENDED: Lana Reed Productions
Established twelve months ago, Lana Reed Productions specialises in media, marketing and event management. Driven by the lack of small-scale production companies in Broome and the Kimberley, Lana has exceeded her own goals, producing ten videos for a wide range of clients. Judges were impressed by Lana's commitment to community organisations and achievements.
WINNER: Kimberley Medical Group
Just shy of two years in operation, Kimberley Medical Group have only JUST slipped in to the Start Up Category, building on last year's Highly Commended to win this year's Start Up Award. Kimberley Medical Group is a mixed billing family medical practice established by Dr Jo Baker in 2016. Judges were impressed by KMG's customer focus and dedication to community needs including extended trading hours and providing a walk-in service for children. They have set clear goals and are focused on business development.
Accepting the award is Dr Jo Baker.
BURU ENERGY AWARD FOR COMMUNITY ENGAGEMENT
WINNER: Footprint Cleaning
Winner of last year's Start Up Award, Footprint cleaning have gone from strength to strength, developing a winning business concept in their mission to keep Broome clean. They've generously supported community events including the Broome Christmas Party, Kyle Andrews Foundation and have a strong ethical backbone with employee assistance. Footprint Cleaning also support the environment through conscious choice of sustainable products and have achieved 'green' certification. Judges say they 'blitzed it' with a perfect score for community engagement.
SMALL BUSINESS DEVELOPMENT CORPORATION AWARD FOR BUSINESS WITH 0 TO 4 EMPLOYEES
WINNER: BroomeTown B&B
The tropical pavilion design of BroomeTown comprises of 4 spacious suites in a guest wing separate from the main house. Guests have their own private entry and spaces, the open-air guest lounge, pool, kitchenette and BBQ are perfect for relaxing and enjoying the Broome lifestyle. Judges were impressed by BroomeTown B&B's benchmarks and giving back to the community. They demonstrated clear strategies and were able to submit glowing customer testimonials.
INPEX ICHTHYS AWARD FOR BUSINESS WITH 5 TO 10 EMPLOYEES
HIGHLY COMMENDED: Footprint Cleaning
Just missing out on a second win for the evening, Footprint Cleaning has demonstrated exceptional business development, with commitment to innovation, customer service, staff and local community.
WINNER: Life and Soul Health and Fitness Club
For the second year running, Life and Soul Health and Fitness Club has taken this award for their strong business performance and tactical planning to ensure they are always relevant to everyday people.
Life and Soul prides itself for being more than just a health and fitness club, rather a community for local people to meet and exercise together. Judges were impressed by their investment in people, customer strategies and technical innovations. They consistently display strong business ethics and community links.
CABLE BEACH CLUB RESORT & SPA AWARD FOR BUSINESS 11 TO 20 EMPLOYEES
WINNER: Lift n Rig
Established in 2012, Lift n Rig is the only certified crane company in the Kimberley, and prides itself on a perfect safety record. Following the post-boom construction downturn, Lift n Rig proved their resilience through strong business planning that ensured their overheads still allowed the business to operate at a profit while not compromising on their level of service. Their future planning to diversify the business impressed the judges, and commitment to support local sport organisations while retaining year-round trainees. Judges were also impressed with Rusty's quote, "we try to keep the business secret otherwise we can't go fishing."
KIMBERLEY DEVELOPMENT COMMISSION AWARD FOR CUSTOMER SERVICE
WINNER: Cocos Beach Bungalows
Comprised of eight stand alone pearling master style bungalows, Cocos Beach Bungalows prides itself on excellent customer service as evident in their guest reviews which have resulted in:
TripAdvisor number 1 of 13 hotels in Broome 2018
TripAdvisor Traveller's Choice Award 2015 to 2018
TripAdvisor ranked 10 out of 20 small hotels australia-wide
Hotels.com outstanding award 5 out of 5 (2017
Star ratings Australia inaugural gold list award number 1 in WA for best overall guest experience 2016 and 2017.
Judges were impressed by Coco's very strong case studies showing excellent understand of customers and their needs as well as great strategies to keep customers loyal.
MANGROVE HOTEL AWARD FOR NON PROFIT ORGANISATION
HIGHLY COMMENDED: It was an almost-tie for second place in this category so we're pleased to announce two organisations as Highly Commended
Broome Markets
Broome Sports Association
WINNER: NYIRRWA MURRGURLAYI
Offering an Employment and Education Housing facility, Nyirrwa Murrgurlayi is Yawuru for 'a house for the purpose of work'. it's a large house with bathrooms, shared kitchen, laundry, lounge, covered swimming pool, BBQ and Sheltered areas. Operating as a shared home, each individual is responsible for their own room and belongings, to participate in daily household chores and to help, encourage and support each other. Judges were impressed by Nyirrwa Murrgurlayi's strong community engagement, and commitment to goals which are tied to their mission statement. They offered a great case study to demonstrate their success.
HORIZON POWER INNOVATION AWARD
WINNER: Unique Kimberley Tourism Marketing
Unique Kimberley is a small but growing tourism consulting service run by Directors Chris and Robyn Maher. They have developed significant expertise in communication and use of social media channels as the main tool for attracting customers. Their social media following has grown organically to over 5,500 and achieves a weekly reach of more than 40,000 people.
As contributing judge to the award, Horizon Power says digital platforms can overcome the tyranny of distance, but when run locally they retain the essence of the product. The interconnectedness of the tourism 'network' is retained through Unique Kimberley's approach, which is why it impresses us. So congratulations to Robyn and Chris.
WORKING TOGETHER BUSINESS OF THE YEAR AWARD
WINNER: Footprint Cleaning
As an employer, Footprint Cleaning have a genuine commitment to providing employment opportunities to Indigenous Australians, with strategies in place for recruitment, retention, and rewarding their workforce. They encourage professional development with all staff and include all employees in decision making processes and provide a flexible, fun and supportive employment environment.
The Broome Chamber congratulates all businesses who were nominated for a Small Business Award this year, and thanks all sponsors whose valuable support make the event possible.
Upcoming Events

Latest news
Community supports ban on lightweight plastic bags Government recognises the need for a transition period for retailers Western Australians have come out in support of the State's plastic bag ban which will start on July 1, 2018. Environment Minister Stephen Dawson has reported that at the close of consultation, more...
Read More
Articles via RSS



Sign Up for the latest news & events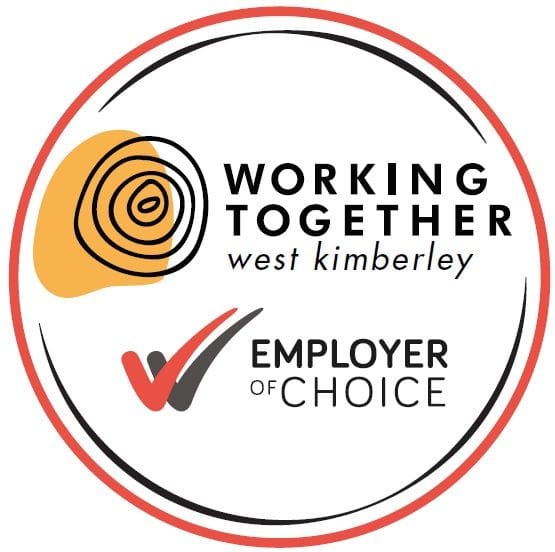 Does your business attract, recruit and retain staff by offering employment or work experience to young Aboriginal employees?
CLICK HERE to become a Working Together Employer of Choice.