Tourism research reveals low levels of awareness about Broome's tourism products & experiences
Written on the 29 March 2016 by Jael Napper
Report finds:
Information about Broome's tourism products and experiences is not easily accessible reinforcing a perception that there is little to do here
Camels on Cable Beach is a famous iconic image that consumers instantly associate with Broome - no other destination in WA has such a strong image that links directly to the destination. The industry should continue to use the image as a 'locator' in marketing campaigns
Creating 'two holidays in one' with a closer alignment of Broome and the Kimberley adds product diversity and a better value proposition to counteract expense of travel and encourage return visitation
The Broome Tourism Leadership Group called a meeting of all business last week to deliver results of a much anticipated report by research company TNS.
A key finding of the research was that Broome & the Kimberley are not particularly well-known, with only one in four claiming a reasonable level of knowledge of the region.
When it comes to the factor people are most put-off by, the cost of flights (relative to the destination experience) is the strongest barrier to visitation.
The research suggests that the areas where Broome needs improvement include:
1. Information (there is a consistent feeling that good, comprehensive information about Broome and what to do there is not available or at least, hard to come by. Information about time-sensitive experiences particularly felt lacking e.g. wrong time of year for Staircase, wrong tides for Dinosaur prints)
2. Service (Perception from past visitors of a sense of love/ hate relationship with tourists means visitors don't feel valued)
3. Mid-Range Accommodation Options (Broome does the top and bottom ends of the market well, but lacking in mid-range price options)
4. Culinary Experience (dining options are generally perceived as unremarkable)
5. Broome town (i.e. Chinatown) not particularly appealing
6. Nightlife (Lack of things to do in the evening)
Among people who have not been to Broome, there were two high-interest associations of the destination, 'sunsets' and 'high quality beaches'. Most other highly interesting things to see and do in Broome had low association with the destination showing a need to more effectively promote and develop the many experiences on offer.
To address these findings, the report suggests marketing Broome and the Kimberley together to offer a greater value proposition to potential visitors, i.e. 'one place, two holidays'.
Allison Grainger, researcher at TNS said, "It is largely known that Broome is technically part of the Kimberley Region (less so interstate than Intrastate), however most people think of them separately, rather than together the link could definitely be stronger.
"Generally, people think of them as geographically close, but experientially separate the Kimberley is 'inland adventure' and Broome is 'coastal relaxation'."
The majority of respondents (83%) believe Broome and the Kimberley both benefit from being more closely associated, as complimentary aspects of a single holiday. The Kimberley adds uniqueness, adventure and extraordinary experiences to a Broome holiday, whereas Broome adds coastal experiences and relaxation to a Kimberley holiday .
An example of a response from a Perth resident was, "If someone said to me 'I've just had a fantastic holiday in the Kimberley', I would think that's in the rugged ranges and gorges and everything else. I wouldn't automatically think 'oh, you've been to Broome'." Per, AA, vis
Whereas Broome's remoteness could be perceived by some as a deterrent, in fact it's an asset alongside its proximity to experiences in the wider Kimberley. They are different, but complimentary experiences.
The report states, "Despite potentially appealing to different types of people, the remoteness of the Kimberley region, combined with Broome's role as an access point means most people think it "makes sense" to do both places in the same trip particularly those from interstate."
"It makes it more interesting to me, the fact that Broome and the Kimberley are linked, because I didn't know they were in the same region." Melb, DD
"You're more likely to pay those airfares for a once in a lifetime trip to the Kimberley, but if you're going to Broome, you're not going to pay that for a trip to the beach." Perth, young, vis

"You'd go to Broome to relax after your adventure." Melb, AA
The majority see the ideal itinerary as a Kimberley adventure, followed by the chance to 'put your feet up' in Broome before heading home.
The report was commissioned to address Broome tourism stakeholder concerns that industry is fragmented and not cohesive in how they operate, how they market, or how they present Broome, as well as expressions of a general desire for a consistent brand and positioning that all business can align behind and utilise.
The meeting was opened by Chair of Tourism WA Peter Prendiville who said Tourism should be a pillar of economic growth for WA; where resources were cornerstone in past tourism is the only sector that can be activated in short term.
He suggested that there is a disengagement from Cabinet and Broome due to Broome's inability to articulate what it wants, and when.
"This research paper starts dialogue to get on the same page. If we can't articulate to Ministers at election time in the next 18 months, we miss an enormous opportunity," Said Mr Prendiville
He also referred to a meeting with Qantas the day prior, "I was really encouraged that they came well prepared with potential solutions to help combat perception and reality of expensive airfares which drives so many people away from Broome as a place for people to visit.
"Broome operators need to get on board alongside Qantas to create opportunities and make sure we get better participation. Parts of jigsaw puzzle are on the table that we haven't seen before."
Following the research presentation, representatives from Tourism WA, Australia's North West Tourism and Broome Visitor Centre offered a brief idea of their future marketing plans.
James Brown, Chair of the Broome Tourism Leadership Group said, "Step one was the creation of the Broome Tourism Strategy. Step two has been knowledge gathering, this research rounds out that phase and I am confident that we now have a strong foundation of evidence to create and prioritise actions. Step three is rolling out those actions. We now have . A strong argument for us to be more focused on the tourism industry in broome."
Mr Brown articulated the next actions by the Group would be to increase product density awareness, develop further product and link the Kimberley to Broome's product. At the presentation he sought feedback from the room whether they felt the need for a marketing plan for Broome alongside a tool kit applicable to all business.
The report, titled 'Broome and the Kimberley: Current Perceptions and Future Direction' was crowd-funded $100,000 raised by the Kimberley Development Commission, Shire of Broome, Tourism WA, and Broome business donations. It is available to view on www.broomechamber.com.au.
All feedback will be collated by the Broome Chamber of Commerce and Industry to be tabled for consideration in the next step of the plan.
Image: Glen Chidlow, Peter Prendiville, James Brown, Allison Grainger
Help out the Broome Chamber by filling out this quick 4-question survey about Tourism:
To see the full report and summaries click HERE.
Upcoming Events

Latest news
Sheffield Resources' Thunderbird mineral sands project would be at a site on the Dampier Peninsula, between Derby and Broome Several multimillion-dollar projects lining up in the Kimberley are set to generate hundreds of new jobs and bolster flat economies in Broome and Derby. The pipeline of prosperity is almost ready to flo...
Read More
Articles via RSS



Sign Up for the latest news & events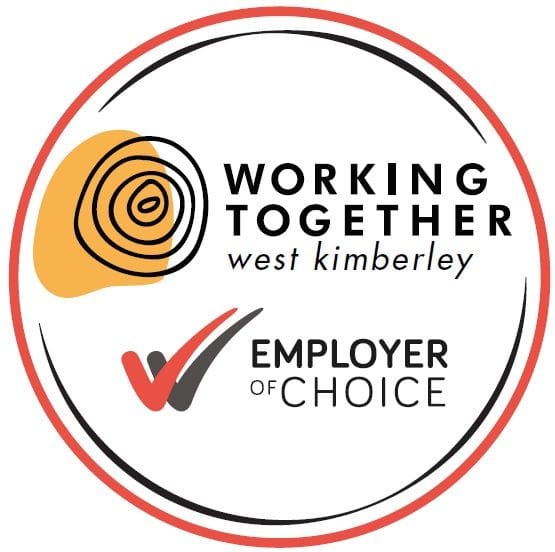 Does your business attract, recruit and retain staff by offering employment or work experience to young Aboriginal employees?
CLICK HERE to become a Working Together Employer of Choice.